Pilgrim State Hospital
Located in Brentwood, NY


Built:1930
Opened:1941
Age:85 years
Closed:N/A
Demo / Renovated:N/A
Decaying for:N/A
Last Known Status:Demolished (most abandoned buildings have been razed, although hospital is still in operation)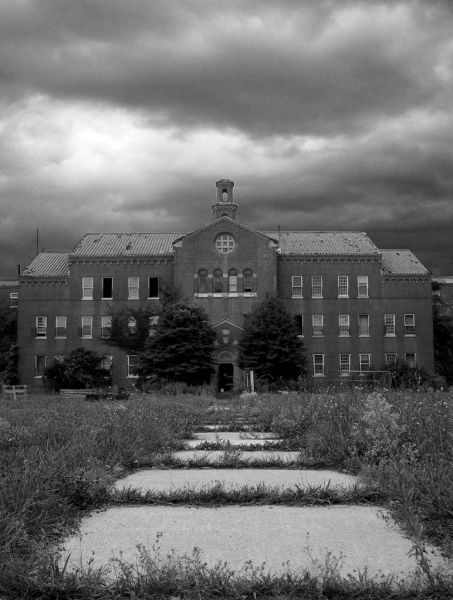 Photo © Tom Kirsch, opacity.us
Pilgrim State Hospital History
In the 1920s, New York State had operated six mental hospitals to facilitate the growing need for psychiatric care, and all were extremely overcrowded. The state's answer was to build the solution to this problem that plagued the New York City area once and for all - Pilgrim State Hospital.
Originally designed to house 12,500 patients on 1,900 acres of land, Pilgrim still holds the record of being the largest psychiatric hospital in the world - its peak patient population at one time was 16,000. The original hospital constructed from 1930-1941 consisted of four large continued treatment groups, each having about six separate buildings. The hospital also included a large medical building where patients and employees with acute diseases would be diagnosed, as well as housing laboratories, consultation rooms, a nursing school, and the pathology department. This building was flanked by two large reception buildings, where new patients would stay for an average of one month to be examined and diagnosed. These two buildings were kept separate by gender, and connecting corridors on each floor allowed patients and staff to work closely and quickly between the common medical facility.
Also on campus was a tall hospital building for chronic patients, a theater, employee and nurses' homes, a bakery, laundry, firehouse, power plant, and a farm which included a horse barn and  piggery. Doctors and their families lived a small community on campus, but separated from the hospital by a major road (and later the Sagitkos Parkway). A ten acre cemetery lies behind a brick water tower, where unclaimed bodies were buried with a simple headstone engraved with a patient number. In the late 1930s Pilgrim averaged one death per day.
In the early 1940s the Federal Works Progress Administration (WPA) began constructing another large hospital on the grounds adjacent to Pilgrim, which was later completed and leased by the U.S. Army. This new facility, called Mason General Hospital, was dedicated in 1944 and served as a POW camp, tuberculosis hospital, and a psychiatric center for war veterans. The campus consisted of a massive thirteen story structure with French château roof, three eight story X-shaped buildings, theater, gym, church, power plant, residences, and a multitude of temporary military structures. It only operated under the U.S. Army until 1946, when it was given back to the state and renamed Edgewood State Hospital. Mason General's X-shaped buildings 81, 82 and 83 were given to Pilgrim, and due to patient decline they were renovated to be used as a state prison in the 1980s. Due to much local opposition, they were modernized and put back to psychiatric use in the 1990s. The annex of these buildings raised Pilgrim's capacity to a total of 15,000. Edgewood closed in 1969-1971, and was demolished in 1989-1990. To read more about Edgewood, visit edgewoodhospital.com, which has a plethora of photos, video, and information about the site.
In 1945, academy award winning director John Huston created a documentary called Let There be Light for the U.S. Army Signal Corps. Filmed at Mason General Hospital, the 58 minute piece was one of the first chronicles of Post-Traumatic Stress Disorder, but was not publicly released until thirty-five years after it was produced. Let There be Light can be viewed online, where the viewer is taken inside the wards of Mason General and shown the process of recovery.
Treatments at Pilgrim included many types of shock therapy; methods that were risky, but the only kind of relief that science could offer at the time before Chlorpromazine (Thorazine) was developed in the 1950s. They include:
Insulin shock therapy: The patient is injected with large doses of insulin, which causes convulsion and coma. Introduced at Pilgrim in 1936.
Metrazol shock therapy: Injections of Metrazol (or commercially known as cardiazol) quickly induces powerful seizures.
Electric shock therapy: Currents of electricity are passed through the brain to induce grand mal seizures, commonly used to treat schizophrenia and mood disorders. Pilgrim State started using this technique in 1940, and has recently been under investigation for forcing this treatment onto patients.
Pre-frontal lobotomies were performed at Pilgrim starting in 1946, and by 1959 as many as 1,000 to 2,000 lobotomies were performed here; most procedures were done in the central medical building #23. A report on lobotomies was filmed at Pilgrim in 1992, hosted by Tom Jarriel of 20/20. It contains information on the history of the procedure, personal case studies of Pilgrim patients, as well as footage from some of the now-abandoned buildings on the Pilgrim campus. Both parts I and II can be viewed below.
After the two other major psychiatric facilities on Long Island closed down - Kings Park Psychiatric Center and Central Islip Psychiatric Center - many of their patients and programs moved to Pilgrim, but the facility was still too large for the ever dwindling need for psychiatric care. The four treatment groups at Pilgrim were shut down, and eventually the fifty buildings were demolished in early 2003 after being sold to a developer. The future of the old medical building, administration, and admission buildings are unclear, but have been abated and seem to be ready for demolition. Pilgrim still remains as a psychiatric facility to this day, currently occupying most of the buildings extant on campus. In 2011, most of the staff and doctor's private homes were demolished.
Sources of information include The Farm Colonies, a fascinating book with over 250 illustrations of the four Long Island state mental hospitals, by Leo Polaski (2003).