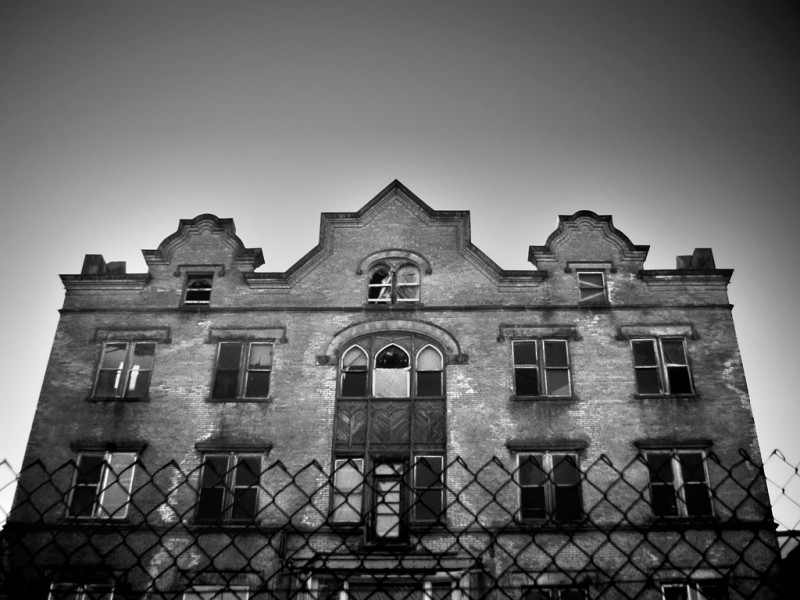 Located in Northampton, MA

Built:1856
Opened:1858
Age:158 years
Closed:1993
Demo / Renovated:2006
Decaying for:13 years
Last Known Status:Demolished

In 1851, Massachusetts state commissioners began discussing plans to construct a third hospital for the insane to alleviate overcrowding at the asylums in Worcester and Boston. In 1855, a grant of $300,000 was given to build a new asylum atop a scenic hill in Northampton, which became known as "Hospital Hill." Celebration of the new hospital commenced on July 4th, 1858, amidst fireworks and Independence Day celebrations, and a bright and hopeful future was painted in hopes to cure the mentally ill.
The Northampton Lunatic Hospital opened in 1858, two years after construction had begun. The three-story Gothic Revival building followed a Kirkbride design, separating patients by gender and severity of illness in crooked wings that spanned outward from the central administration core. It was the fourth Kirkbride building constructed, and had a maximum capacity of 250 patients; this original hospital building was later known as "Old Main." The hospital's early years followed strict guidelines of moral treatment, and stressed the benefits of physical labor performed by able-bodied patients. Working in the hospital's farm was thought to carry many psychological benefits, including fresh air, lack of apathy, and a sense of accomplishment. The hospital was able to sustain itself so well from its livestock and produce that it required no state funds during the first years in operation.
Not unlike most state hospitals, optimism for curing mental illness began to decline by the turn of the century as the state psychiatric hospitals became overcrowded with more admissions and less discharges. The moral treatments the hospital was so dedicated to had to be reduced to custodial care at a base level - there were too many patients, not enough space, a shortage of staff, political corruption, and behind it all, the lack of funding. In 1885, Northampton's patient population had swelled to 476 in a building originally meant to hold 250. Infirmary wards were constructed at both ends of the hospital wings in 1902 and 1903, but did little to alleviate the situation. Federal relief funding from the Great Depression allowed for the construction of the Memorial Complex, allowing an additional 1,000 patients. It had eased the cramped situation in Old Main, but only briefly. By 1955, Northampton State Hospital had reached its peak population at 2,657 patients.
In 1961, more patients were finally being discharged than admitted due to the advent of psychotropic drugs. A slow deinstitutionalization process took place in 1978 and lasted fourteen years. Many patients were released to their families, or transferred to group homes and nursing facilities through a placement program that started in 1962. The Kirkbride complex, Old Main, was vacated in 1986, and the hospital closed entirely in 1993 after admitting over 64,500 patients in the course of 135 years.
There are 594 confirmed burials of former patients at the hospital cemetery, but there may be as many as 1,200 people buried here; the reason for the uncertainty is because of incomplete or missing state records. All of the markers have sunk below the ground and are no longer visible.
Two movies have been filmed at NSH: The Cider House Rules and In Dreams, both released in 1999. Some props and fake walls have even been left behind in the halls of Old Main. In 2000, a memorial event headed by artist Anna Schuleit called The State Hospital: in Memoriam took place, which included a sound performance from speakers installed in the building. In 2005, abatement and demolition work had begun to create a(nother) housing development called The Village Hill of Northampton.
Despite the fact that Old Main and surrounding buildings of similar age were added to the National Register of Historic Places in 1994, a mayor's promise to find a re-use plan in 1995, and the efforts of a coalition named Save Old Main, the institution was completely leveled in 2006-2007.
For a detailed history of NSH's early years, check out the digitized Annual Reports (1856-1939).
Photo Galleries: