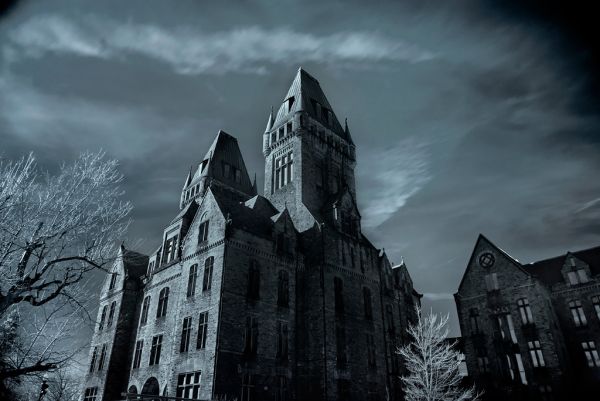 Located in Buffalo, NY

Also Known As:Buffalo State Asylum for the Insane, H.H. Richardson Complex, Buffalo State Lunatic Asylum, Buffalo Psychiatric Center, Richardson Olmsted Complex
Location Genre:Psychiatric Hospital, Kirkbride Plan
Built:1871
Opened:1880
Age:143 years
Closed:1974
Demo / Renovated:N/A
Decaying for:40 years
Last Known Status:Preserved

125 years after they have been constructed, the two medieval towers still stand tall in the midst of Buffalo, New York - a truly majestic display of the fortitude and grandeur that is The Buffalo State Asylum. The dark stone and imposing heights make this hospital's foreboding atmosphere rival that of the asylum in Danvers. But rather than tearing it down to pave the way for housing developments, the city of Buffalo has memorialized the building by lighting it at night, using a type of Plexiglass instead of boards to cover the windows, and keeping a close watch over the property.
Henry Richardson was appointed to design the state hospital in 1870, and thus was given an opportunity to display his own style of architecture, which has become known as Richardsonian Romanesque. The Kirkbride layout was used - five wards would step out on either side of a central administration building. Patients were separated by sex, and the most violent patients resided farthest away from administration at the wing tips. The wards were separated by curved connecting hallways, topped with a copper roof, and contained large iron doors that could isolate a ward in the event of a fire. A rough Medina sandstone was used as the primary building material, giving the building a very dark hue, until in 1876 when budget issues forced Richardson to use brick for the outer three wards. The towers (each 185 feet tall) and male wing opened in 1880, and the female wing was completed in 1895, finalizing the building's construction, although Richardson had died nine years prior.
Buffalo State Hospital's history thereon is sadly much like the others... a surge of patients in the first half of the 20th century crippled Dr. Thomas Kirkbride's vision of peaceful, sanitary living conditions for the mentally ill. Patients slept in the halls or outside as the occupancy exceeded the building's design by the thousands. The brick wards on the east side of the complex were demolished in 1960's, paving the way for a new (and ugly) building that is part of the active campus. The Kirkbride building was vacated of all patients in 1974, and one year later the institute became known as Buffalo Psychiatric Center, which is still active to this day.
Plans are to reuse the administration building as a school or college; there appears to be construction and asbestos abatement equipment on the grounds.