Glenn Dale Hospital
Located in Glenn Dale, MD


Built:N/A
Opened:1934
Age:82 years
Closed:1981
Demo / Renovated:N/A
Decaying for:35 years
Last Known Status:Abandoned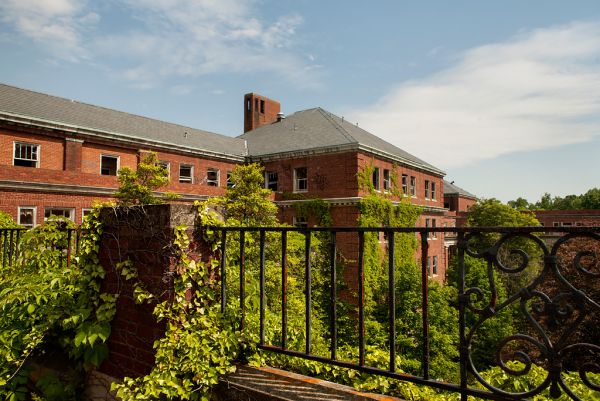 Photo © 2005 Tom Kirsch, opacity.us
View full size photo

Glenn Dale Hospital History
The former Glenn Dale Hospital (also known as Glenndale Hospital) was once a tuberculosis hospital constructed to treat the population of the Washington D.C. area. The 210 acre campus consisted of mainly two large hospital buildings: Building A, opened in 1937 treated adults with a capacity of 293 beds, and Building B, opened in 1934 which treated children, with a capacity of 257 beds. These buildings had many terraces to push the beds out on for fresh air treatments. Other structures included the power plant, trash incinerator, nurse's quarters, and staff housing.
In 1960, after the tuberculosis epidemic had mostly died out, Glenn Dale hospital was used to treat the chronically ill. Building A was used to provide hospital medical care, and Building B was a skilled nursing and immediate care center. In 1976, 370 patients were being treated at Glenn Dale, but numerous fire code and safety violations were found when inspecting the buildings for renovation. Non-fire resistant shafts and laundry chutes, dead-end corridors, lack of fire safety doors, and small patient bedrooms were all violations. The $23 million estimated cost to rehab buildings A and B to meet the life-safety code requirements was most likely the death knell of the institution.
The facility closed in 1981, and the property was transferred to the Maryland-National Capital Park and Planning Commission in 1995. Adaptive re-use plans and developer bidding began in 2010; the existing structures will more than likely be demolished. State law requires that the hospital campus is used as a continuing care retirement community, and the remaining 150 acres are dedicated to parks and recreation.
Photos of Glenn Dale Hospital