Cliffside Hospital
Located at an undisclosed place in United States of America


Built:1910
Opened:N/A
Age:107 years
Closed:1993
Demo / Renovated:N/A
Decaying for:24 years
Last Known Status:Abandoned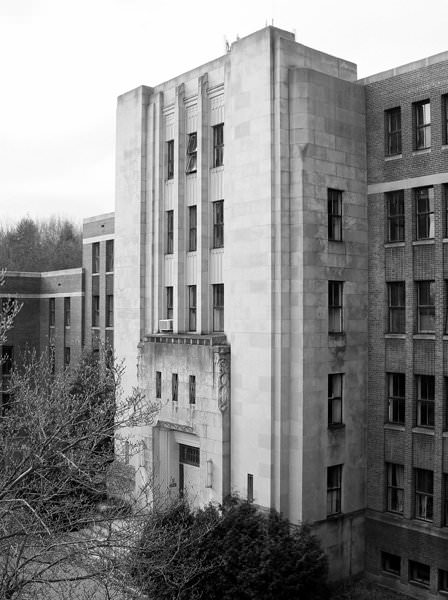 Photo © 2005 Tom Kirsch, opacity.us
View full size photo

Cliffside Hospital* History
The history of this hospital begins in the 1890s, when an almshouse was constructed to care for the city's poor and indigent. It operated until the 1970s when those services were relocated, and the buildings was subsequently burned in the 1980s.
In 1910, the establishment of a tuberculosis sanitarium was held near the old almshouse, dedicated to treating only children stricken with TB. It was recognized as the first facility of its kind in 1918. The largest building on campus (126,254 square feet) was constructed sometime in the 1930s, right about when the hospital began accepting adult TB patients.
In 1956, the facility was transferred to the Department of Mental Health, and was used as a psychiatric rehabilitation center for the surrounding state mental hospitals. This continued until 1976, when the hospital was transferred to the Department of Mental Retardation.
The role of the large hospital building shifted yet again in 1979, when it was used for troubled adolescents undergoing psychiatric evaluation. The doors of this building were closed sometime after 1993 - it has been used for surplus storage ever since. At one point, surplus equipment from the U.S. Army was being stored inside. Now it is only visited by a skeleton maintenance crew and the adventurous explorer.
* Note: the name "Cliffside Hospital" is a pseudonym; the real name of this location is currently undisclosed.