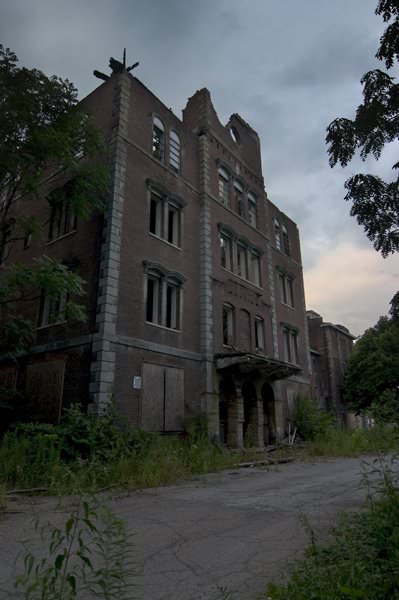 Located in Pittsburgh, PA

Also Known As:Department of the Insane in the Western Pennsylvania Hospital of Pittsburgh, Dixmont Hospital for the Insane
Location Genre:Psychiatric Hospital, Kirkbride Plan
Built:1859
Opened:1862
Age:155 years
Closed:1984
Demo / Renovated:2006
Decaying for:22 years
Last Known Status:Demolished

Dixmont State was once known as the Department of the Insane in the Western Pennsylvania Hospital of Pittsburgh back when it was opened in 1862, with an initial population of 113 patients. It was one of the earlier asylums built on the Kirkbride plan, with three crooked wings stretching to each side of administration; one wing for male and the other for female patients. By the end of the 1800's, the resident population grew to over 1,200 and a nursing school was established in 1895. In 1907, the hospital legally separated from the Western Pennsylvania Hospital and became known as Dixmont Hospital for the Insane, named after Dorothea Dix, a pioneer in advocating the humane treatment of the mentally ill.

As with most asylums, Dixmont became overcrowded to the point that it was not accepting new admissions. During the Great Depression, the hospital tried to sustain itself by paying employees only with room and board, not salaries, and sold any crafts made by patients for extra income. By 1946, the state had to step in, and the institution became known as Dixmont State Hospital.

Financial troubles still plagued the hospital until it finally closed in 1984. A fire partially destroyed the administration building, and the place was an easy target for anyone to do what they pleased. For 15 years the hospital sat decaying, until a contractor named Ralph Stroyne bought the property (whose many relatives worked at the institution), but it was sold again to the Wal-mart corporation, where they planned to raze the buildings for a new department store. Someone has (unofficially) informed me that there was a company who offered to restore the property but Wal-Mart had deeper pockets ($35 million for 35 acres).

As of 2006, the hospital has been demolished, even though the Kirkbride building was listed on the National Register of Historic Places in 1980. The precarious nature of the hill that it rested on proved to be a challenge for the developers - and eventually an engineering disaster. The demolition and clearing of the parcel atop the hill caused a massive landslide in September 2006, which dumped 500,000 cubic yards of soil, rock and debris onto Route 65, closing it to traffic for some time. One year later, Wal-mart finally abandoned the plans to develop the site.

Be sure to check out these great historical photos, more Dixmont history , and Tuckie's photos.