James Clemens House
Located in St. Louis, MO


Built:1858
Opened:1860
Age:159 years
Closed:2000
Demo / Renovated:N/A
Decaying for:17 years
Last Known Status:Abandoned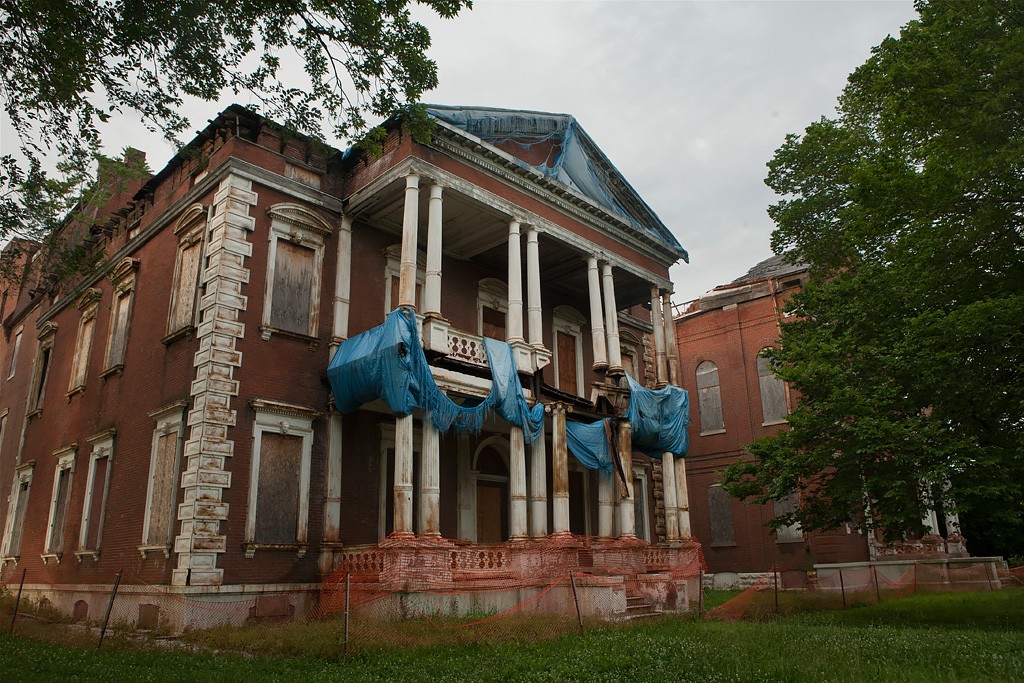 Photo © 2009 Tom Kirsch, opacity.us
View full size photo

James Clemens House History
In the 1830s, James Clemens Jr. was a highly successful merchant living in St. Louis; he was also the uncle of famed author Samuel Clemens, better known by his pen name, Mark Twain. James married the shy, gentle Eliza Mullanphy in 1833, and together they had twelve children in twenty years. In 1849, a great cholera epidemic swept through St. Louis by steamboats, carrying the disease from India to the ports of the United States, and up through the Mississippi River. One-eighth of the city's population was decimated in only six months, including a two-year old of the Clemens' family. Eliza died a few years later in 1853, leaving James with seven remaining children, distraught and alone. Instead of re-marrying, he appropriated a small fortune to construct a new house where he would be able to see his wife every day until his last.
This new memorial-residence was designed by Patrick Walsh in 1858. Walsh and Porter White, a plaster artist, were instructed by the grieving Mr. Clemens to reproduce Eliza's image in the ornamental plaster ceiling molding on the first floor, in a Carrara marble mantle in the parlor, and in other design elements. St. Louis' Great Fire of 1849 convinced Clemens that the home needed to be fireproof, so the Greek Revival Palladian Villa was adorned with many cast iron features; Eliza's death mask was carefully re-created in cast iron and used in the exterior ornamentation.
James Clemens Jr. resided at the somewhat morbid home until his death in 1879. In 1885 the building was sold to the Sisters of St. Joseph of Carondelet, who added a dormitory to the rear of the residence in 1887, and most notably, a graceful chapel in 1896. The chapel was designed by Aloysius Gillick, who was also the architect of several other local Archdiocese buildings, including St. Mary's Infirmary. The two-story brick building features an ornate front porch, red sandstone ornaments and sills.
The sisters left the building in 1949 and were followed by the Vincentian Fathers and Brothers for some time. The buildings became a City Landmark in 1971. In 1979, a series of different social service groups passed ownership throughout the years, who unfortunately did not maintain the building. By the year 2000, the Berean Society was using the old building as a homeless shelter, and by this time many renovations were badly needed. In 2001, a Buddhist organization bought the property to use as a retreat center, but could not raise enough funds to restore the buildings. Major structural damage had begun to take hold, and the city condemned the buildings.
In 2009 it was purchased by a developer, and although the property has had some stabilization work performed, redevelopment has since been halted.
Special thanks to STLtourguide for providing the fascinating history of this funerary residence.
Photos of James Clemens House