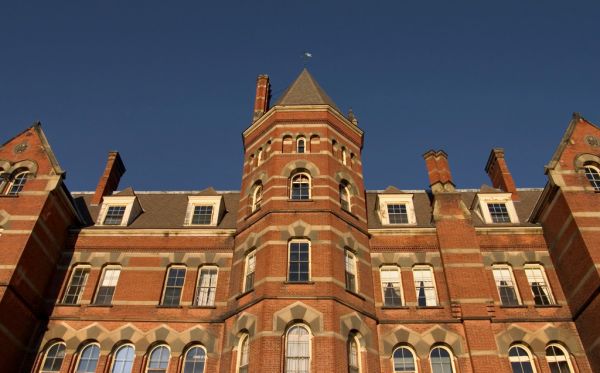 Built:1868
Opened:1871
Age:146 years
Closed:2003
Demo / Renovated:N/A
Decaying for:11 years
Last Known Status:Abandoned

This insane asylum, as it was once called, sits hidden amidst green rolling hills, with a grand view of the mountainous landscape and a nearby river. The main building on the campus is a Kirkbride design in Gothic-revival style, where male and female patients were separated by the two wings on either side of a central administration section. Construction began in 1868, and finished in 1871. A unique revision to the Kirkbride design was that because of a lower expectancy of female patients than male, one wing was built at almost half the size of the other, while the original design calls for a symmetrical building.

The Kirkbride had to be modernized as running water, fire escapes and other new technologies were worked into building codes, making the basements a nightmarish maze of pipes and wires squeezing into the spaces of the old design. The state hospital eventually expanded to over 100 buildings, the largest of which is a nine story building that looms in front of the original complex; the facility was treating over 6,000 patients at its peak. All the patients were eventually moved out of the Kirkbride sometime around the mid 1970s, and the wards have since fallen into major disrepair. The central administration portion was still used however, until around 2001 when the property went up for sale and was eventually sold to a developer.

It might not be long before most of the buildings are demolished... but until then, this hospital remains as one of the most beautiful abandoned places in the Northeast.

Update:

The property has been purchased by developers and the Kirkbride is undergoing heavy restoration... many doors have been locked and the tunnels have been sealed. The holes in the roof are being patched to prevent further decay, it seems like they will try to preserve the entire Kirkbride.

In June 2007, the male wing had caught fire, destroying much of this section of the building. The cause was determined to be lightning, as the lightning rods had been removed during renovation. The future of the building is now uncertain, and the larger of the two wings is now a burned out shell. The exterior walls have gaping holes that span two floors, and the roof is missing in most parts. Restoration efforts have halted since.
Photo Galleries: