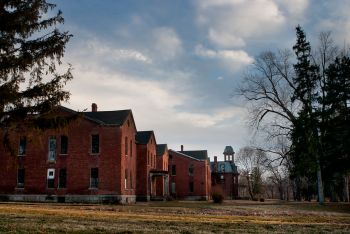 Built:1866
Opened:1869
Age:148 years
Closed:1995
Demo / Renovated:N/A
Decaying for:19 years
Last Known Status:Abandoned (areas are partially used as a prison)
In the mid-19th century, state asylums for the insane were being constructed larger and more quickly across the United States, however the existing institutions were plagued with large numbers of "incurable" (also known as chronic) patients. Older folks admitted to mental hospitals tended to stay for long durations, eventually severing ties to the outside world and becoming institutionalized - unable to live outside the hospital system. Patients with Alzheimer's disease, a condition that was not recognized at the time, would be physically healthy and live in the state asylum for many years. Hospital administrators felt these beds that could be used for hopeful cases were becoming filled with an ever-growing population of incurable patients, hindering the efforts of the doctors whose job was to heal those that could be healed. Many also felt these patients were a detriment to the therapeutic environment for the curable hospital population.
This first asylum for the incurable insane in the U.S. was opened in 1869 on a rural tract of land nestled in a scenic location. Its original purpose was to care for the hopeless cases with as much dignity and comfort as possible until some slim chance of recovery, and in most cases until death. The establishment of such an institution was quite controversial, as it was a serious blow to morale in the psychiatric field to the public eye; this hospital was a place that offered no hope for recovery. This asylum was in itself an admission that some forms of mental illness could not be treated by the state.
Even so, the hospital was undoubtedly better than cramming the mentally ill in cells with the drunks and criminals locked up at the county almshouses. The first patients that arrived at the asylum were transferred from these almshouses, unlocked from their shackles, bathed, and given clean clothes to wear; whereas before they were beaten and restrained like animals. Other initial patients were hopeless cases transferred from nearby state asylums. Early inspections and reports of the hospital were generally positive, describing a peaceful atmosphere and lack of mechanical restraints. New admissions were initially transferred to this rural site via rail car at the hospital's train station (simply named "Asylum"), or by a steam boat that was used for both transportation and pleasure cruises for the patients (1890 through 1914).
The first building, a Second Empire Baroque-style structure, exceeded its 250-bed capacity within months of opening; after rapid expansions at the asylum it became the largest mental hospital in the country with 1,500 patients in 1870. The main building was a three-story brick structure with a central tower, and was subsequently razed in the 1980s. Other buildings on campus were of assorted shapes, including a type of linear layout that resembled the Kirkbride plan - it was not built according to this plan however, as the Kirkbride model was geared specifically for progressive treatment, not custodial care for the incurable. Other structures included blocks for men and women, auditorium, laboratory, pathology, workshops, nursing school, staff dormitories, and the hospital farm. The asylum eventually began treating both acute and chronic cases as it became a state hospital in 1890, and the campus would eventually reach a peak census of over 4,000 patients in 1955.
Treatments at the hospital were performed sparingly at first, as custodial care was the primary objective. As acute cases were admitted, standard procedures were administered such as hydrotherapy, as well as insulin and Metrazol shock therapy starting in 1937, and electroshock in the 1940s. This latter treatment was exercised quite often; there were over 1,400 EST treatments administered here in 1942 alone. In 1951 a special program called the Blitz Electric Shock Treatment (B.E.S.T.) was begun at the hospital after reports of repeated shock treatments having an unprecedented beneficial effect in the hospital ships returning from World War II. Fifty of the most disturbed female patients were given 40-50 shock sessions in a short period of time, some as often as four treatments within 48 hours, with a marked improvement in behavior and decrease in violent tendencies. Treatment shifted towards drug regiments after the introduction of Thorazine in the 1950s.
The buildings were slowly vacated as patients moved out of the state hospitals and into group and nursing homes during the 1980s, and the hospital closed its doors in 1995. Most of the campus is currently owned by the Department of Corrections, which operates a secure drug treatment facility on the grounds.