Cemetery Safari: The Millionaire's Mausoleum
Old cemeteries can be somewhat similar to abandoned places; I find these quiet and secluded areas dotted with moldy stones and musty tombs great to explore and photograph. Curious symbols such as anchors, tree trunks, acorns, and hand gestures have deep spiritual and sometimes cryptic meanings. Ornate crypts hearken back to Egypt's Valley of the Kings; in fact, many Egyptian-styled crypts can be found from the 1920s when the world turned their heads to the discoveries being made in Africa. Beautiful statues carved from the skilled hands of stone workers are relics of the past, as simple plaques become more popular due to constraints in cemetery space, budget, and maintenance. I hoped to capture a few of these unique places while traveling around, and I think they fit perfectly into ephemera on this site.
This particular cemetery is private - used, although very rarely. Sliding past thick brush and a tall fence leads us to a dead-end road, with a small family crypt on one side. A larger crypt can be seen up ahead through the fall foliage - it is the final resting place of a 19th century railroad tycoon and his family.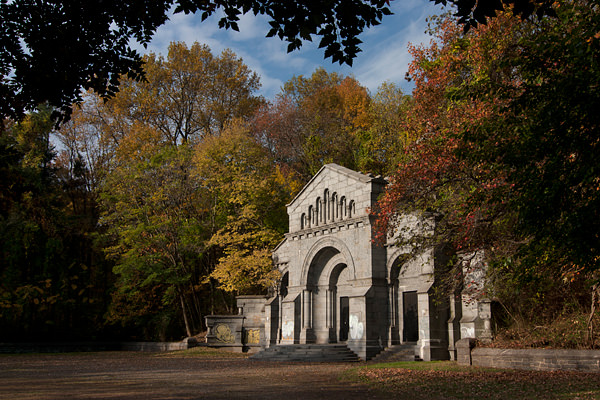 Constructed in 1885-1886, the mausoleum entrance was modeled after a church in France. The grounds surrounding the tomb were designed by Frederick Law Olmsted (most famous for his work in Central Park, and some abandoned places such as Buffalo State Hospital and the Tome School). In such a secluded spot, this small cemetery seemed perfect for some night photography...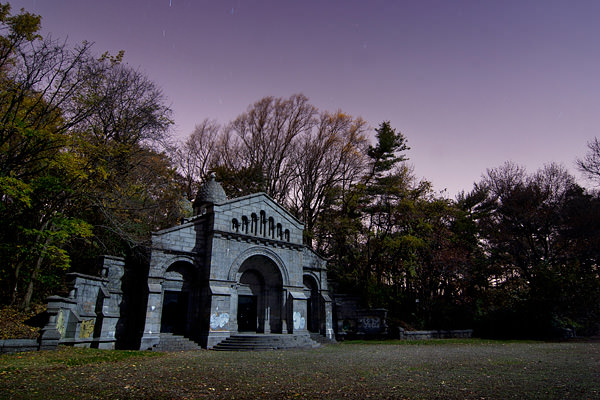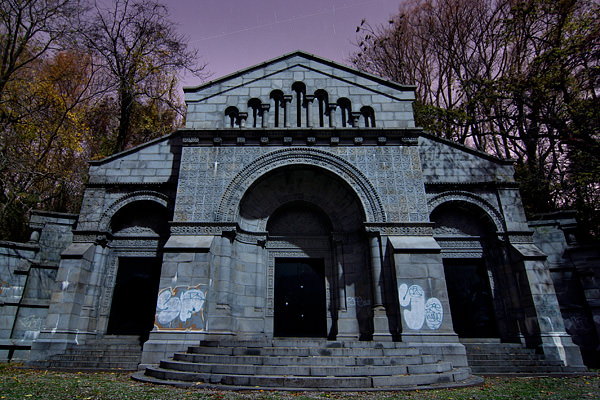 The seclusion also opens up the opportunity for the crypt to be vandalized; even as far back as 1930, break-ins have been attempted at this tomb by thieves looking for the mother-load that was most likely stored inside. A motion sensor alarm on the thick steel doors keeps most visitors away these days.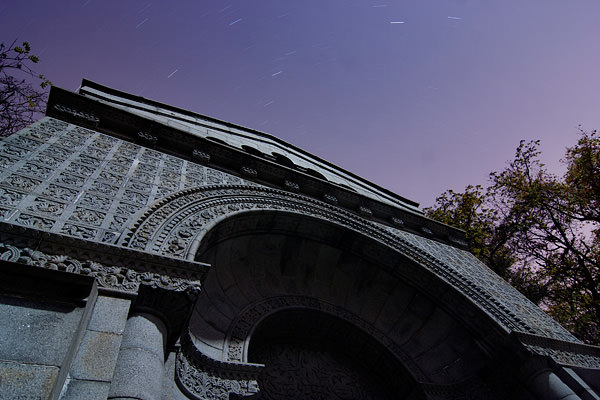 In 1967, the hinges of the ornate front gate gave way and crushed a woman as she visited the tomb. I am unable to ascertain if she survived from the little documentation I've found. It has been replaced by simple yet solid metal doors.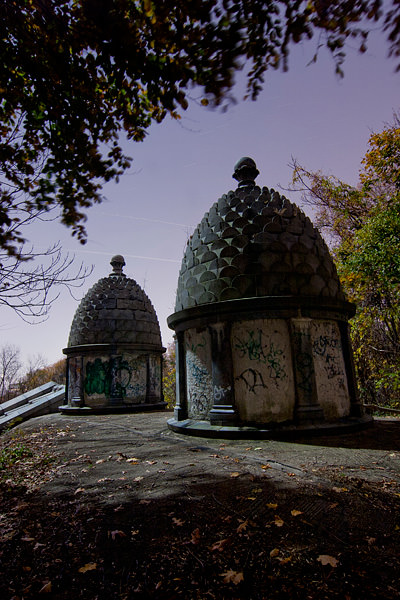 One can reach the roof of the mausoleum by climbing up the hill side, offering a view of the sea. These acorn ornaments are deceptively large - I would guess around 18 feet high. The acorn symbolizes a greater life after death - "great oaks grow from little acorns." The ornaments most likely served as ventilation shafts and/or skylights before they were cemented in. The original grating on the roof and in the front doors can be seen in this historic photograph: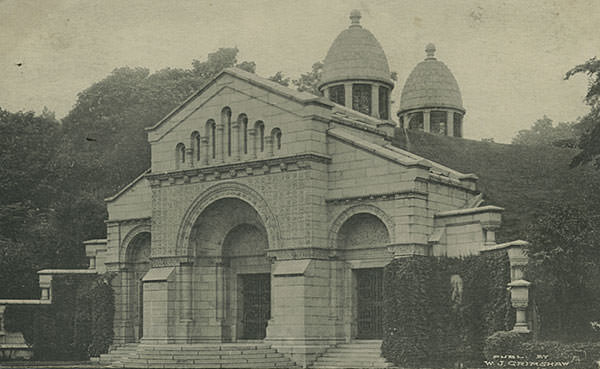 It was really a unique and intriguing spot to gaze at the stars and the sea... as long as someone doesn't set off the motion sensor!